---
---
---
---
---
---
---
---
---
---
---
---
---

THE LIKE OF THEM SHALL NOT PASS THIS WAY AGAIN
Maybelle Reid Allen (February 25, 1920 - December 9, 2005), Florence Reid Lewis (February 16, 1916 - November 13, 2005), Dorothy Reid Pete (February 28, 1914 - October 10, 2005)
In August of 2002, three of the four oldest surviving children of Tom Reid Sr. and Virginia (Jenny) Parker Reid of Berkeley, California posed for pictures at the first annual family reunion of the Descendants of Tom and Virginia Reid. All born in Berkeley, California, growing up in the same houses on Oregon and California Streets, none of the three sisters moved far away from home, each moving to Oakland after marriage and living within a small, loving circle of each other. Three years after this picture was taken, like three great trees falling, one after the other, in the middle of the forest, the Reids lost these three great giants in the family, the mothers of eight children and countless grandchildren and great-grandchildren, nieces and nephews. Dorothy passed in October at the age of 91, Florence passed almost exactly one month later, at the age of 89, and Maybelle passed almost one month after that at the age of 85. In three short months, the Reid Family lost 265 years of history, of love, of support, and of companionship almost as if, when the first one passed over, the others could not either bear being on this side without her, or saw her leading the way, and hurried on to follow on. We will miss them much, all three of them. The like of them shall not pass this way again.
---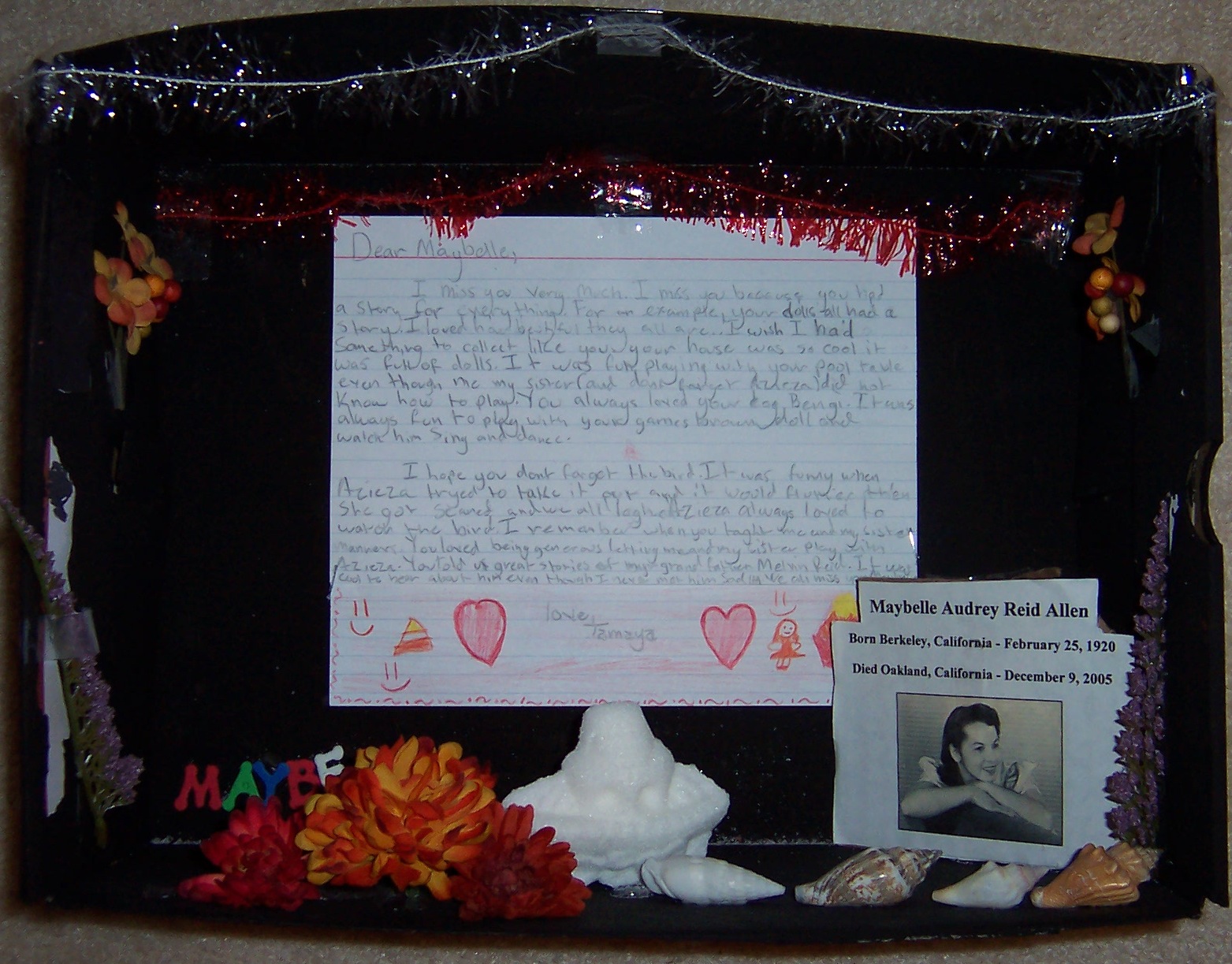 November, 2007 Day of The Dead tribute
Tribute made to Aunt Maybelle Reid Allen by Tamaya Reid, daughter of David Reid, granddaughter of Mel Reid and Betty Reid Soskin. Tamaya often visited Aunt Maybelle when Maybelle's great-granddaughter, Aziza, was there. The text of the note inside the shrine reads:
Dear Maybelle,
I miss you because you had a story for everything. For an example, your dolls all had a story. I loved how beautiful they all are. I wish I had something to collect like you. Your house was so cool it was full of dolls. It was fun playing with your pool table even though me and my sister (and don't forget Aziza) did not know how to play. You always loved your dog Bengi. It was always fun to play with your James Brown doll and make him sing and dance.
I hope you don't forget the bird. It was funny when Aziza tried to take it out and it would flutter. Then she got scared we all laughed. Aziza always loved to watch the bird. I remember when you taught me and my sister manners. You loved being generous, letting me and my sister play with Aziza. You told us great stories of my grandfather Melvin Reid. It was cool to hear about him even though I never met him. I'm sad. We all mis you, Maybelle.
Love, Tamaya
---