ERNEST ALLEN, SR.
November 1, 1918 - June 27, 1997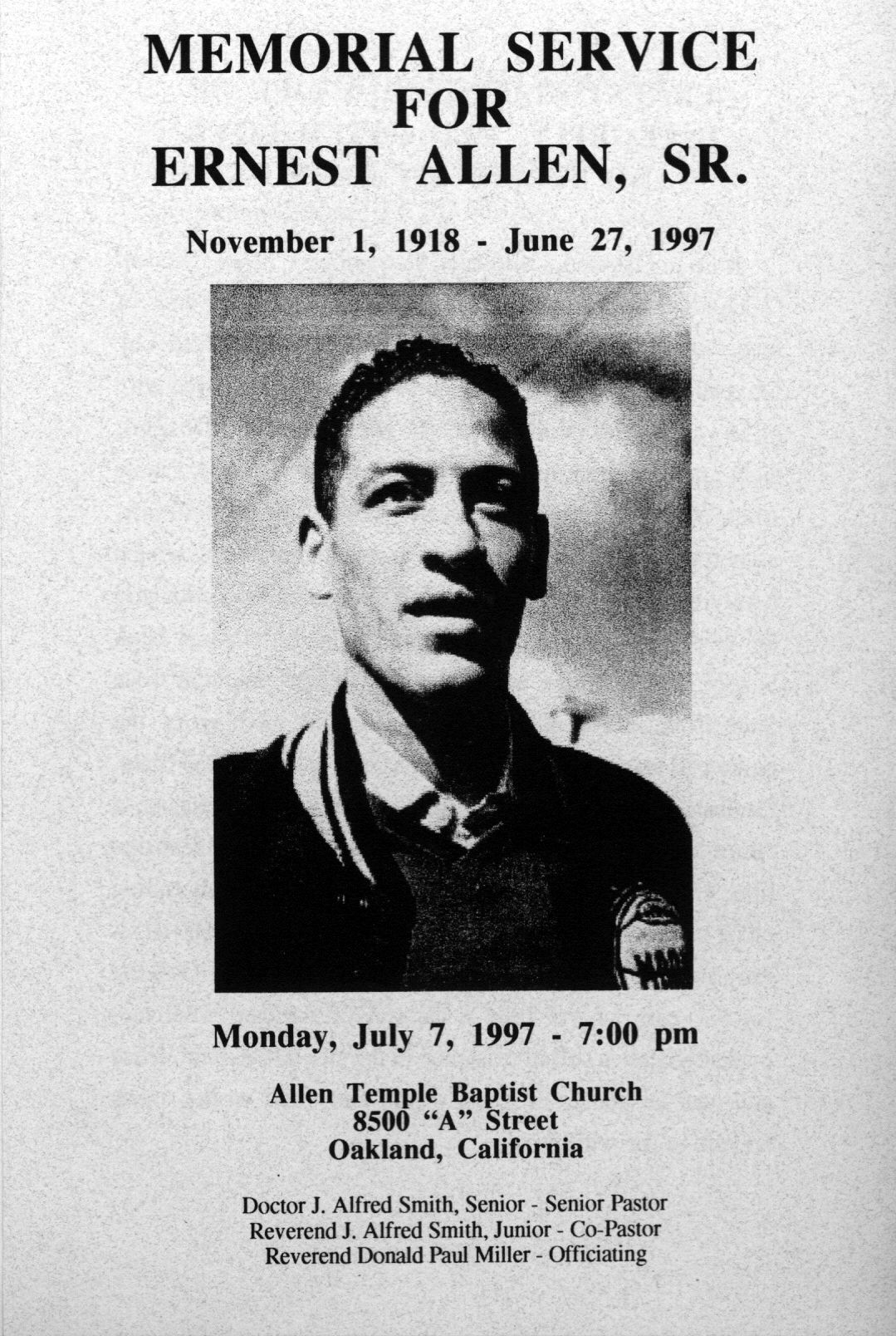 Ernest Allen, Sr., A Life Of Integrity, Dedicated Love And Steadfast Service
Born in Oakland, California, November 1, 1918. Died in Oakland, California, June 27, 1997. Created a universe of love, strength, and stability in-between. Survived by Maybelle Reid Allen, his teenage sweetheart and beloved wife of 56 years; three children, Ernest, Jr., Bonnie, and Douglas; eight grandchildren; one great-grandchild; two sisters, Elaine Allen Wilson and Audrey Allen Briscoe; two brothers-in-law; numerous nieces and nephews; and innumerable extended family members from California to Texas and Louisiana and the world beyond. Graduated from Oakland Technical High School, and attended Marin Junior College and San Jose State College. An outstanding athlete and member of the basketball teams at Oakland Tech, Marin, and San Jose State. Dedicated all his life to the uplift of African-Americans; a "Race Man" from a time when people were proud to bear that title. Honored as the plaintiff in the landmark lawsuit ending racial segregation in the Oakland Fire Department in 1953. Proprietor of Supreme Poultry and Grocery in East Oakland for 43 years, one of only a handful of African American-owned groceries still in existence in the city of Oakland. Wise and just. Dispenser of good words and good works. Look for him in the whirlwind.
"As long as you can say and believe that your ship is coming in, you are only poor, which is no disgrace. It's when you lose faith that you'll ever be any better off that you cross the line into poverty."

Quotation written in the ledger book of Ernest Allen, Sr.
June, 1941
---