WILNES ALLEN
November 3, 1923 - February 16, 2007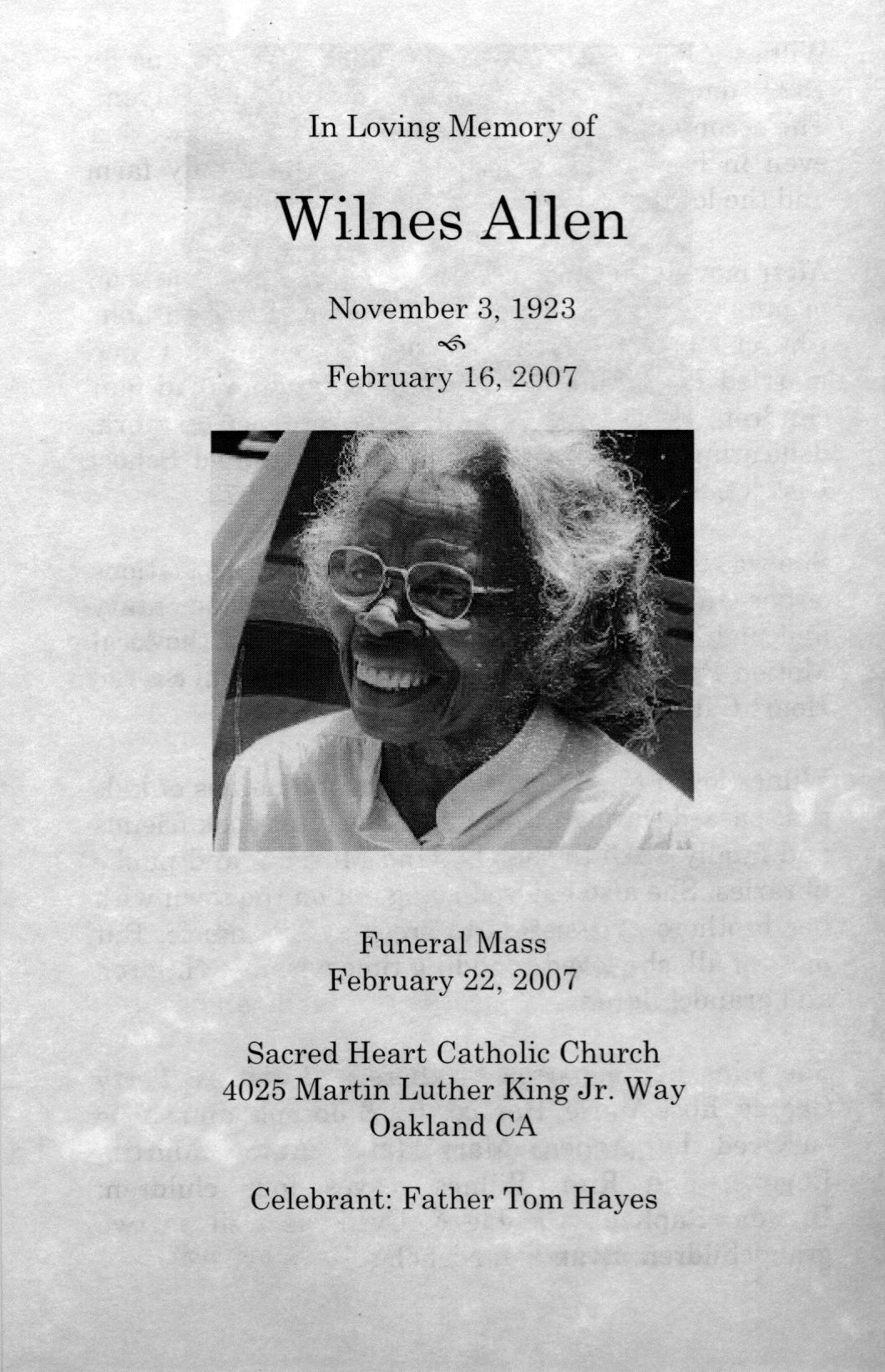 Wilnes Allen was born in Opelousas, Louisiana in 1923, daughter of Mary Jane and Horace Gayent. The second of eleven children, she was a hard worker even in her childhood, working on the family farm and the local dairy to help raise her siblings.
After moving to Oakland, California in 1946, she soon began to work in the rectory of Sacred Heart Catholic Church. It was in this parish that she met and married Fred Allen in 1956. Together they had four children. Several years later, she returned to work, dedicating 20 years to the Oakland Unified School District. She was widowed February 16, 1973.
She was also active in the parent/teacher associations of her childrens' schools throughout their elementary and high school years. She participated in the local Motion Picture Guild, and remained active in Sacred Heart Catholic Church for many years.
Wilnes loved to cook and entertain the hordes of kids that passed through the house. She often took friends and family alike to the Oakland Museum and public libraries. She also enjoyed going out on the town with her brothers and sisters to enjoy zydeco music. But most of all, she loved spending time with her children and grandchildren.
She joins her departed brothers and sisters: Perry George, Rose Marie, Horace, Jr., & Joseph; and she is survived by Agnes, Mary Jane, Anita, Martin, Eugene, and Rita. Wilnes leaves four children: Brenda, Raphael, Cie-Jae & Cyril, as well as two grandchildren: Evan and Nicholas.
---