DOROTHY MARION PETE
February 28, 1914 - October 10, 2005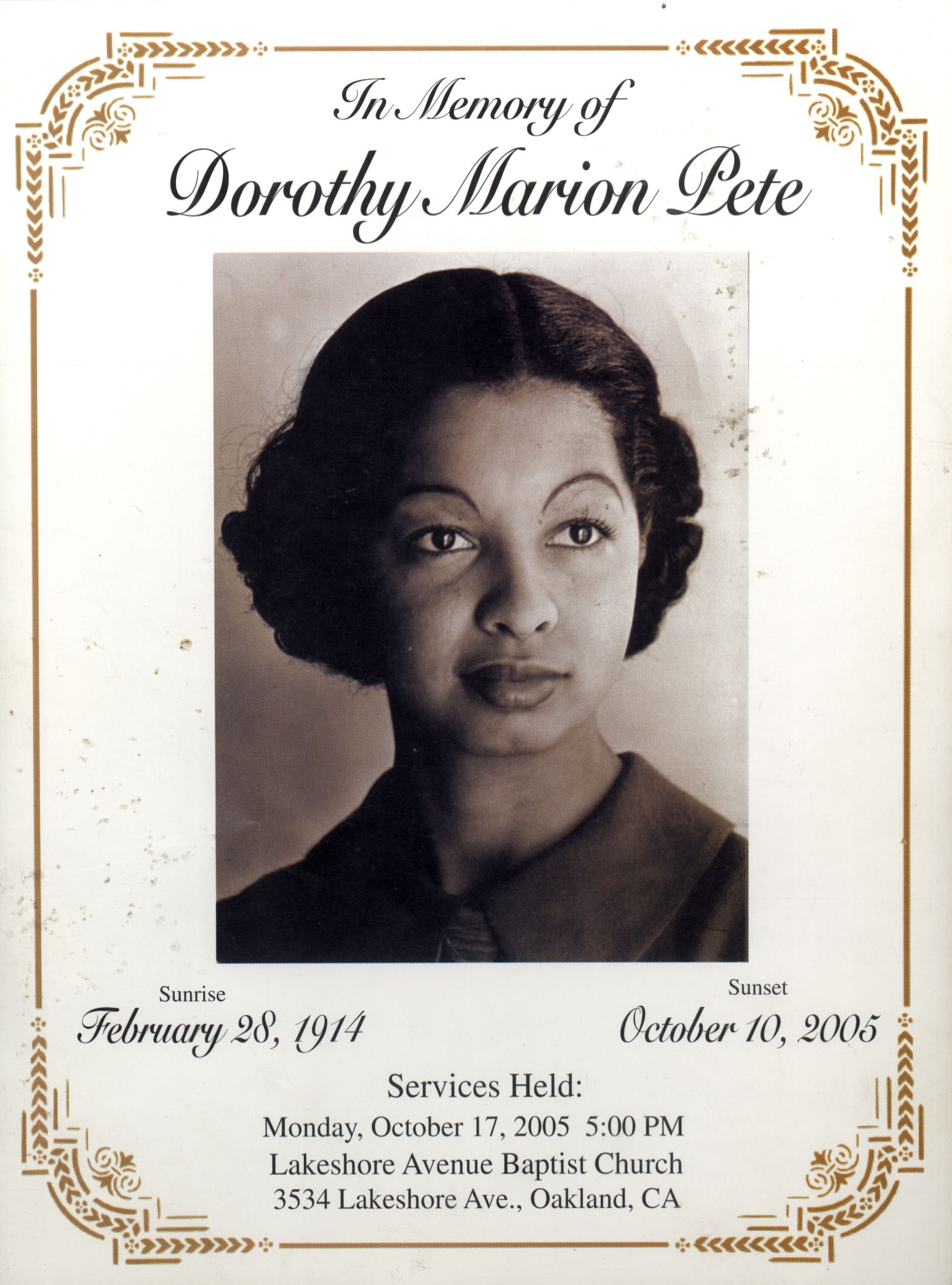 Dorothy Marion Pete died Monday, October 10, 2005 at home in Oakland at the age of 91. She was born in Berkeley, CA on February 28, 1914 as the ninth of 13 children to Virginia (Jennie) Parker and Thomas Reid, Sr.
Dorothy lived out the "Christ in her" by becoming a gift to anyone who had the opportunity to pass through her life. She gave the gift of love and devotion to her God, her family and her friends, her church and her community. She loved to converse (if you knew her, you know this to be true), and was a delight to be around. She gave encouragement and warm laughter. She spearheaded many a food drive at her church. She gave to the homeless. She loved to give away blankets and quilts and dolls that she created by hand or by sewing machine. She gave counsel. She was a planter of flowers, a skillful cook, a collector of unique artifacts. She was well traveled and exercised regularly into her 90's. Dorothy was the proverbial "Virtuous Woman," and ultimately, she gave us the gift of a life well lived.
Dorthy Marion Pete married Herman Rideau Pete from Crowley, Louisiana who migrated to California where he graduated from Alameda High School. From this union three (3) sons were born: Gregory, a masters graduate from UC Berkeley School of Journalism, Dennis, a CSU, San Francisco graduate and Senior Manager of an East Coast based Youth Ministry organization in Atlanta, Georgia and Geoffrey, a CSU, San Diego graduate, entrepreneur, and owner of Geoffrey's Inner Circle. Gregory and Dennis were accomplished classical pianists by age 12.
Dorothy graduated from Berkeley High School and was hired as the office secretary at the (then) segregated West Oakland Linden Street Branch of the YWCA. She later integrated the downtown Oakland YWCA where she served as stenographer for one year before becoming the administrative assistant to the Executive Director Helen Grant.
Dorothy integrated the staff of the Lakeshore Avenue Baptist Church in Oakland, CA and became a member under the leadership of Reverend Rodney Romney (after being a lifetime member of North Oakland Baptist Church). When asked by one of his parishioners as to whether or not Dorothy was hired because she was competent or because she was black, Rev. Romney quipped "for both reasons." Dorothy also taught Sunday school and was the president of the American Baptist Women's group.
Dorothy was the sister of Paul Reid and the aunt of Mel Reid, the owners of Northern California's famed Reid's Records on Sacramento Street in Berkeley. Reid's also had an outlet in Oakland at the Swan's Market complex for many years.
Dorothy contributed love to her community and she continues to be loved. She was preceded in death by her husband Herman and leaves to celebrate her life three sons: Gregory, Dennis and Geoffrey, grandchildren; Dwan, Jordan, Kayla, Noonie-Zuberi, great grandchildren; Julian and Tyler, three sisters; Maybelle Allen, Florence Lewis and Hazel Huff and many relatives and friends.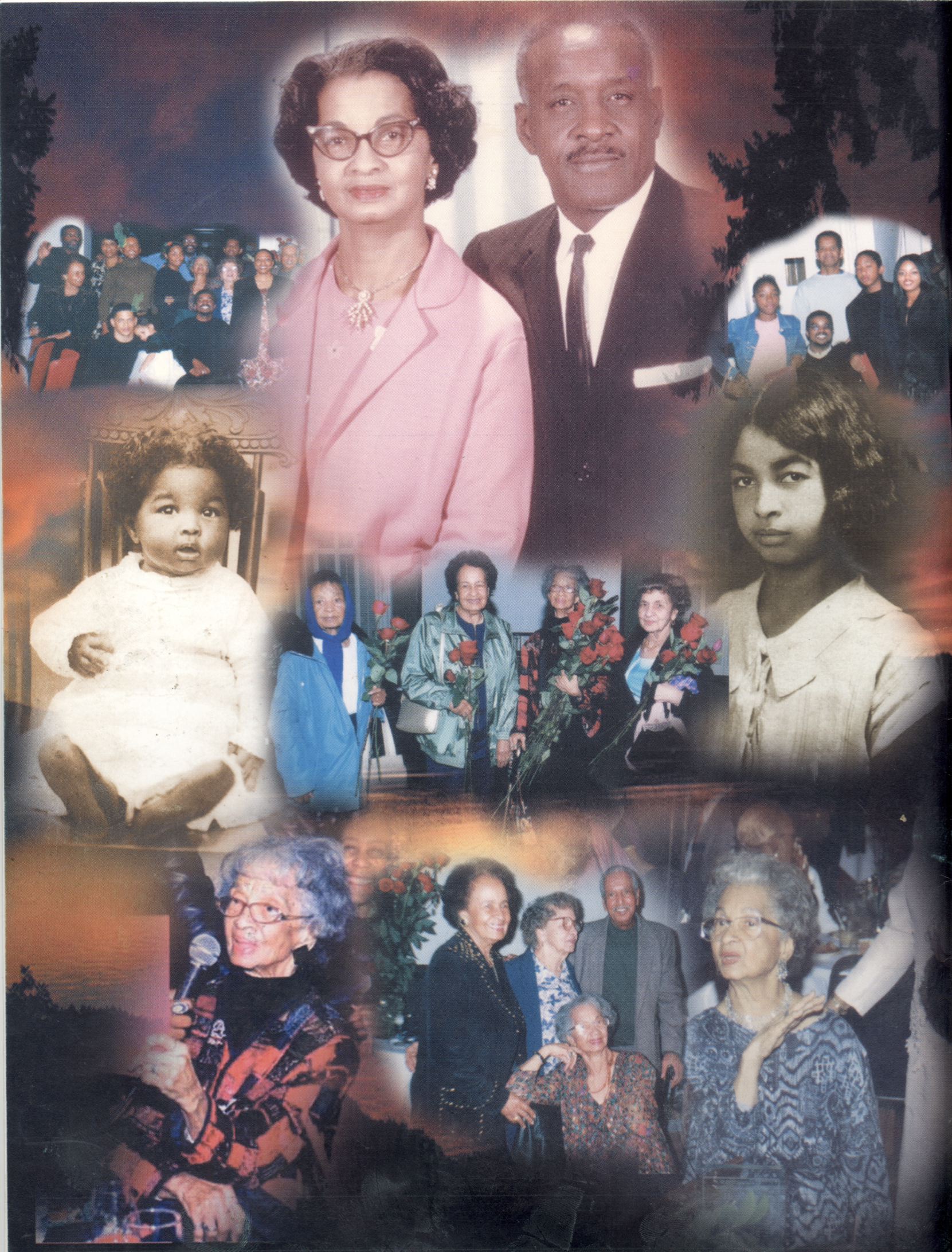 ---