MEL REID
December 17, 1918 - August 25, 1988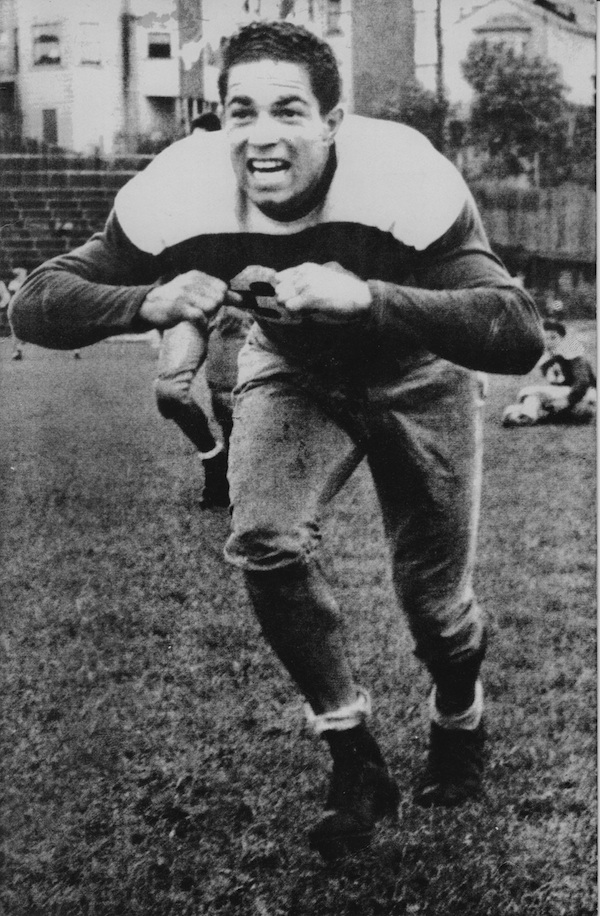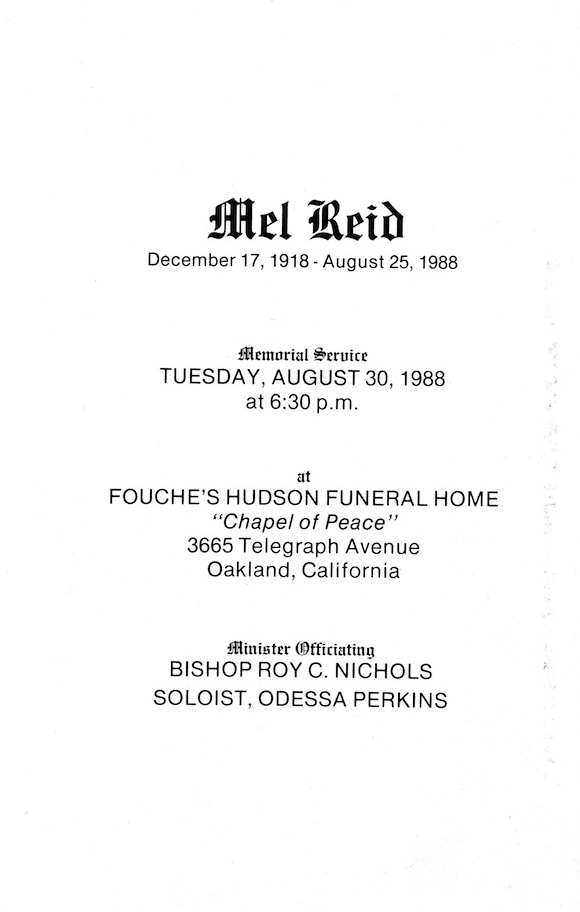 OBITUARY OF MELVIN ADELBERT REID
By Bill Eaton
From The Oakland Tribune [1988, date unknown]
BERKELEY—Melvin Adelbert Reid, who was an outstanding amateur and professional athelte and established Reid's Records here in 1945, died here August 25. He was 69.
Mr. Reid was born in South Berkeley and began his atheltic career playing sandlot baseball in San Pablo Park and later played for the California Eagles, a black semi-professional team.
He was a star left halfback at Berkeley High School and at the University of San Francisco, where he made the all-star and all-coast college teams. he played professional football with the Pacific Coast League's Oakland Giants, before there was a national Football league, and ended his football career with a season with the Honolulu Warriors.
The loss of a leg to diabetes did not prevent him from taking an active role as a Berkeley High School booster.
Mr. Reid and his wife, Betty, established Reid's Records in a tiny garage and as it grew they moved it to 3107 Sacramento Street, and in 1964 to a building they built at 3101 Sacramento Street, where the family still does business as Reid's Records, Gospel Center of the West.
He and his uncle, the late Paul Reid, were for more than 25 years active figures in the ascendancy of the great gospel music stars, and were foremost entrepreneurs in the gospel music business.
Mr. Reid was the first manager of the Edwin Hawkins Singers and toured Europe with that choir in the 1970s.
For 35 years he fought urban blight in the vicinity of Sacramento and Prince streets, and he took great pride in the fact that in 1984 his Sacramento Street building became the headquarters for the local presidential campaign of the Rev. Jesse Jackson.
Mr. Reid is survived by his former wife, Betty Reid Soskin; by his sons, Dale Richard Reid, Robert Thomas Reid, and David Allen Reid; and by his daughter, Dorian.
---
"For Mel"
By Betty Reid Soskin
WHEN MY LOVELY WORLD TURNS COLD
AND LEAVES ME WONDERING
IF I ALL I AM TO BE HAS NOW BEEN
AND IF ALL I AM TO GROW
TO SENSE
TO FEEL
TO SEE
TO KNOW
IF ALL I AM TO BE
HAS FLOWN WITH THE WIND
THEN I LEAVE THIS LONELY WORLD
AND CLIMBA A HILL
WHERE SOFT EARTH FITS MY FOOT
AND I CAN MAKE THE WORLD BE STILL
AND MY ARMS
OUTSTRETCHED
HOLD SUN
AND CLOUDS
AND SKY
AND THE WIND FOLDS ME IN LOVE
AND I'M
ALL
I.
AND THEN
HIGH
ATOP MY HILL
MY TREES AND I
THROUGH EARTH BENEATH OUR FEET
ALL CAN FEEL THE WORLD INSIDE
AND THROUGH LIMBS
OUTSTRETCHED
FEEL MOON
AND STARS
AND SKY
AND OUR WIND FOLDS US IN LOVE
AND
WE'RE ALL
I.
---