BENELLA H. BOULDIN
July 14, 1921 - January 25, 2013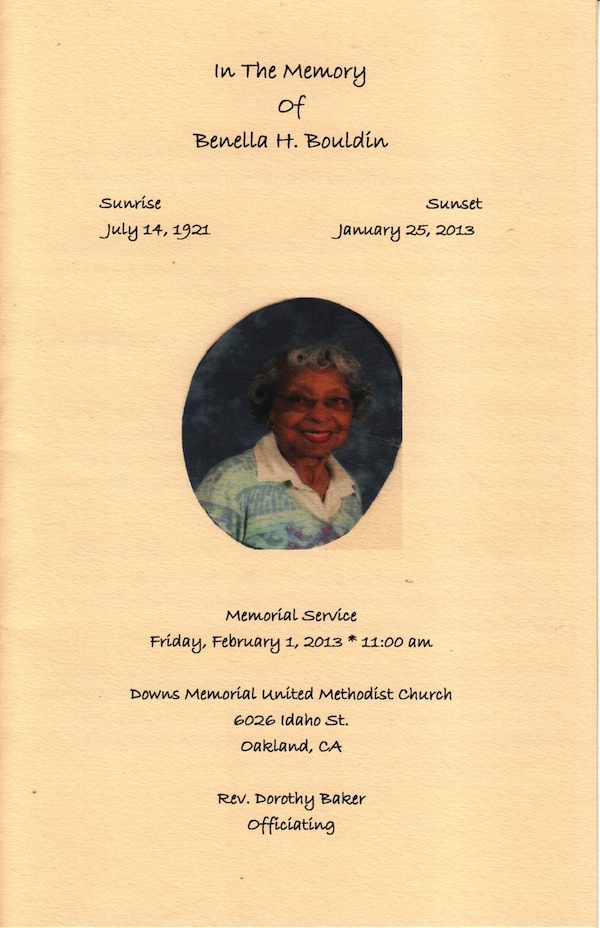 Benella Harris Bouldin was born July 14, 1921 in Coffeville, Kansas to proud parents Marcus Harris and Maggie Smith Harris. She later moved to Fort Smith, Arkansas until 1946.
Upon leaving Arkansas she moved to Pasadena, California to attend UCLA pursuing a degree in Social Welfare. Benella's paternal grandmother resided in Berkeley where she visited often. There she met Georges Bouldin.
On January 28, 1951 Benella married Georges. They enjoyed 46 years of faithful and married life with four children.
Benella held careers as a secretary/clerk at Oakland Naval Supply, a florist operating her own business in Berkeley, and as a preschool teacher. As a teacher she was instrumental in integrating several schools by being the first woman of color to be on their staff, and assisting in making their enrollment diverse.
Benella had been a member of Downs Memorial United Methodist Church for many years, where she was a member of United Methodist Women and served as president and treasurer. She had also been active in Fishes and Loaves Community Feeding Program.
Benella is survived by a son Georges, Jr., daughters Carolyn and Linda; son-in-law Myers; grandchildren Lisa, Carlos, Marvin, Genevieve, Matthew, Nicholas and Vanessa; great-grandchildren William (Raincloud), KaiWillow, Najid, Aaliyah, Sofia, John, Alexis, Jonte and Elija; great-great-grandchildren Andrea and Andre, and a host of relatives and friends.
---