WILLA MAE SIMS
January 4, 1916- June 26, 1999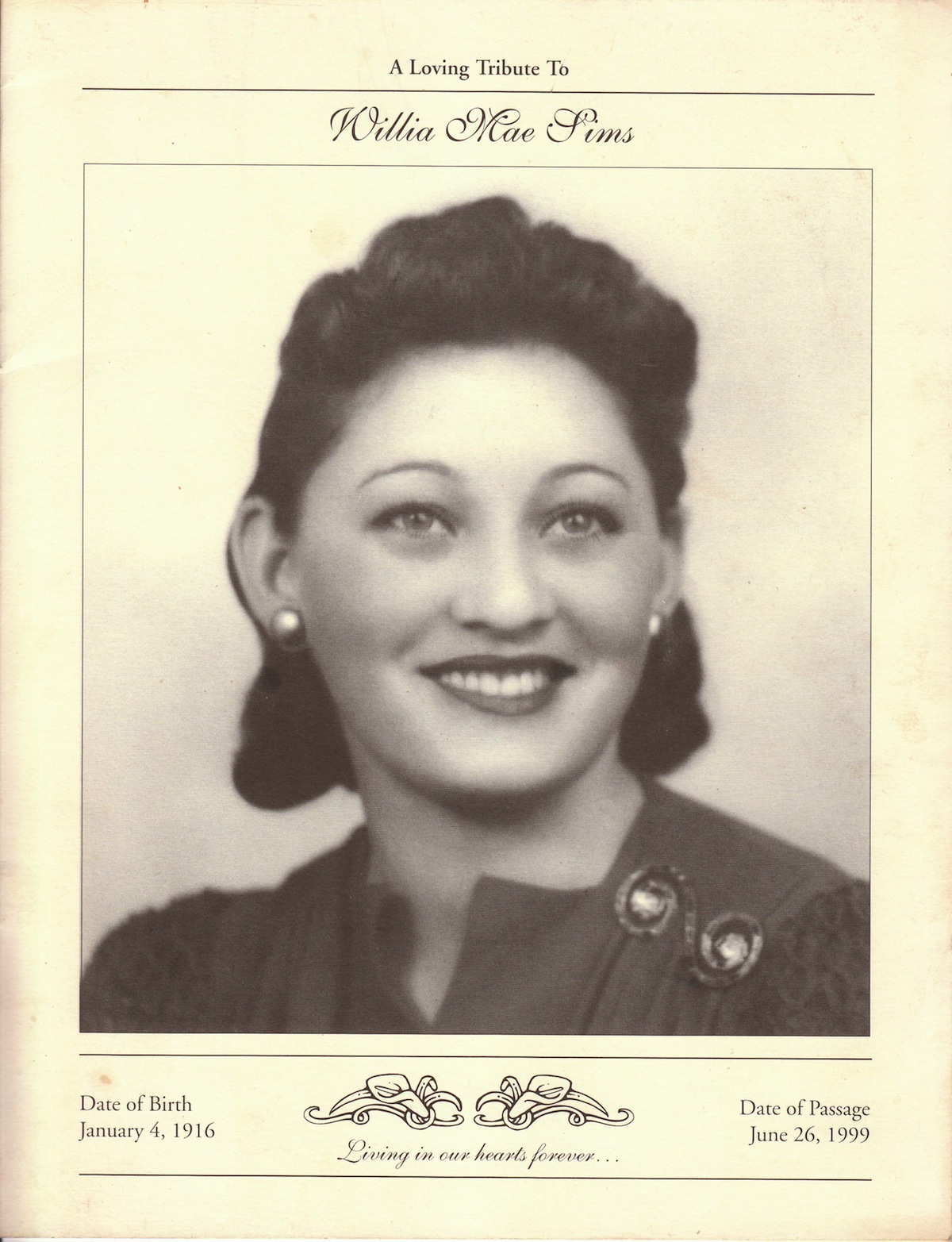 Willa Mae Sims (known fondly as "Peaches") was born January 4, 1916, the first-born of two children of Ida Levi Wilson and Nathern Kranson in Natchitoches, Louisiana, where she spent most of her life as a young girl. She attended private school and a vocational training school in Louisiana and subsequently met Walter L. Sims.
In 1933, the two married and moved to California three years later. Shortly thereafter Willa Mae began employment with the Oakland Army Base as a supervisor for several years. In 1955, Willa Mae and Walter adopted their one and only daughter, Nancy.
This would be the beginning of a lifetime devotion to everything that brought Nancy joy. Willa Mae served in a leadership capacity with organizations such as the Brownies, Girl Scouts and most prominently, the Parent Teacher Association. She was a dedicated member for ten years, serving as both Vice President and President during her tenure.
Willa Mae's benevolent spirit earned the blessings of long-term friendships that became as family. These friendships led to the formation of a bridge club known as "Cards and Chatter." Willa Mae was an avid bridge player and master at her game. This "ladies only" club has played bridge together for more than 40 years.
Willa Mae's financial savvy combined with her husband's vision inspired the preparation for their retirement—a step into entrepreneurship. In 1971 they purchased a liquor store and named it "Walt's Liquors" where Willa Mae was known as "Miss Walt." She enjoyed many years of this new partnership with her husband until his untimely death in 1975. "Miss Walt," alone, maintained the success of the family business for the following two years.
Family remained important to Willa Mae and she became "Mother" to all who crossed her path. She represented a quality standard of motherhood and passed this wisdom onto her late niece, Melanie, and later to Melanie's children, Daphne and April. Seventeen years ago she assumed guardianship of Melanie's youngest child, Aiesha, and together with her daughter Nancy raised the child to adulthood. Even in her elder years she continued to give in to her maternal strength and imparted a legacy of protection, guidance and undying love to her great-grand nephews Henry, Robert, Peter, Paul and her great-grand niece Kasai. The children loved her dearly and affectionately referred to her as "Tauntie."
Her innate courage during her five-year battle with cancer reflects how she met all of life's challenges—"she fought a good fight, kept the faith and finished her course." On Saturday, June 26th, willa Mae Sims went home to be with the Lord. To celebrate her life, she leaves her daughter Nancy Sims, her aunt, Merle Thomas and a host of relatives and dear friends...and her devoted canine companion, Sable.
---