AN EAST BAY TRAGEDY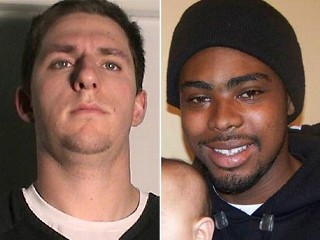 Johannes Mehserle and Oscar Grant III
Friends And Family Rally In Hayward Celebrating Oscar Grant's Birthday

From the Oakland Post
March 6 , 2009
Family, friends, and supporters of the young man shot and killed on New Years Day at the Fruitvale BART Station marched and rallied in downtown Hayward last Friday to celebrate what would have been Oscar Grant's 23rd birthday.
Some 150 protesters marched through downtown Hayward from the Hayward BART Station to Hayward City Hall, ending an hour-long rally with the release of some 25 light-blue, helium-filled balloons into the air "in honor of all of the lost souls" of East Bay violence.
Grant's mother, Wanda Johnson, told rally participants that if Grant were at the rally that day, "Oscar would say just laugh and think about all of the good things you did together. This is a day of celebration for Oscar, and we just want to celebrate his life. Oscar would rejoice in God, Justice is going to come from the Lord, and the Lord is going to give victory to our situation." Johnson said that she was grateful that she was able to celebrate her own birthday with Grant on New Year's Eve, shortly before he left to go on BART to the San Francisco party that ultimately led to his death.
Shanta Driver, representing the East Bay's BAMN organization (Coalition to Defend Affirmative Action, Integration, & Immigrant Rights And Fight for Equality by Any Means Necessary), one of the co-sponsors of the march and rally, told the rally crowd that "for everyone who saw the video, you know who Oscar was. He was a leader. In that situation, when it looked like nothing could be done to de-escalate the situation, had his hands up in the air, asking the police officers not only to spare his life, but to spare the lives of the people around him. This has got to be a day in which we make sure that when the name Oscar Grant is heard a year, two years, ten years, twenty years from now, the name Oscar Grant will mean justice."
Sophina Mesa, Oscar Grant's girlfriend and the mother of his two year old child, appeared at the rally in a T-shirt reading "Happy Birthday, Baby." Mesa did not speak at the rally, nor has she spoken in public since Grant's death. She told a reporter, however, that she would speak to the public and the media "when I am ready."
Security for the march and rally was heavy, with Hayward police in full riot gear outnumbering the protesters.
Oakland attorney John Burris, who is representing the Grant family in a $50 million federal civil rights lawsuit against BART, said following the rally that the heavy police presence was "unnecessary; it's harassment and intimidation."
Grant, who lived in Hayward, was shot to death by BART Police Officer Johannes Mehserle while Grant was lying on his face on the Fruitvale BART platform. Mehserle, who resigned from the BART Police Department shortly afterwards, has since been arrested and charged with murder in the case. Grant's death has sparked numerous rallies and marches, most of them in Oakland.
While some of Grant's family members have attended many of the previous rallies and marches, Friday's rally was believed to be the first time that most of them have assembled and spoken in public since Grant's death on New Year's Day. The Hayward rally co-sponsored by the Grant family and by BAMN, which is one of several organizations involved in the Grant protests.