Following A Day Of Protest And A Night Of Violence, Oakland And BART Officials Respond To New Years Day Killing
Berkeley Daily Planet
January 9, 2009
Berkeley Daily Planet
January 14, 2009
With The Controversy Continuing, BART Board Selects A Committee To Review Its Police
Berkeley Daily Planet
January 15, 2009
In The Middle Of The Aftermath Of The Oscar Grant Death, Some Thoughts On Where We Stand
UnderCurrents Column
January 15, 2009
Demonstrators Jam Oakland Streets In Second Round Of Oscar Grant Protests
Berkeley Daily Planet
January 22, 2009
Though Oakland Had Nothing To Do With The Oscar Grant Death, It Is Oakland Where The Political, Legal, And Street Battles Are Being Fought
UnderCurrents Column
January 22, 2009
As A New Video Surfaces, Cracks In The Grant Coalition
A Second Officer Is Identified, And Grant Protesters Split On The Issue Of The Use Of Vandalism And Violence
UnderCurrents Column
January 29, 2009
While Granting $3 Million Bail, Judge Blasts Former BART Officer As A Danger To The Community
Berkeley Daily Planet
February 5, 2009
What Some Activists Are Elevating To A Strategy Is Merely Catering To The Whims Of The Mob
UnderCurrents Column
February 12, 200
While Many Grant Protest Charges Dropped, Some Felony Charges Go Forward
Berkeley Daily Planet
February 12, 2009
Chaotic BART Board Meeting Ends With Little Movement On Oscar Grant Issues
Berkeley Daily Planet
February 13, 2009
Farrakhan Tells Oakland Crowd That Oscar Grant Killing "Stirred Something Up"
Berkeley Daily Planet
February 19, 2009
A "Broader Scope Of Work" In Grant Investigations
Why The Current Investigations Do Not Go Far Enough
UnderCurrents Column
February 19, 2009
Analyzing The Strategic Differences Emerging In The Oscar Grant Movement
UnderCurrents Column
March 5, 2009
Friends And Family Rally In Hayward Celebrating Oscar Grant's Birthday
Oakland Post
March 6, 2009
Oscar Grant Protesters Rally But Decide Not To Close Down Fruitvale BART
Berkeley Daily Planet
March 11, 2009
AN EAST BAY TRAGEDY
AN AMERICAN TRAGEDY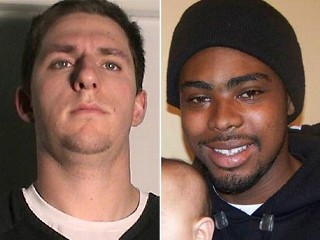 Johannes Mehserle and Oscar Grant III
Early in the morning hours of New Years Day, 2009, BART police reportedly responded to reports of a fight on a southbound BART train somewhere near the West Oakland BART Station. Officers stopped the train at the Fruitvale BART Station and pulled several individuals off, including 22 year old Oscar Grant of Hayward and at least two friends he was riding with. It has still not been independently determined if Grant and his friends were involved in the fighting. Widely distributed cellphone videos have shown an unresisting Grant being punched in his face on the platform by BART officer Tony Pirone, knocking him down, Pirone putting his knee on Grant's neck or head while Grant was lying face-down on the platform surrounded by several other patrol officers, and then BART officer Johannes Mehserle pulling out his revolver and shooting the defenseless Grant once in the back, killing him.
The Grant shooting set off numerous protests in Oakland, eventually resulting in the arrest of Mehserle by the Oakland Police Department and charges of murder by the Alameda County District Attorney's office. The name for this page—"I Am Oscar Grant"—comes from the chant taken up by demonstrators during many of the protests and meetings held since Oscar Grant's death. This is a continuing story, captured as it's happening by journalist J. Douglas Allen-Taylor.