Allen-Taylor Wins PEN Oakland Award
[November 18, 2013] -- The PEN Oakland writers organization announced this week that Oakland-native journalist, political-social columnist and novelist J. Douglas Allen-Taylor is the winner of the group's Reginald Lockett Memorial Lifetime Achievement Award this year for Allen-Taylor's "gadfly writings exposing the hypocrises and errors of Bay Area politicians."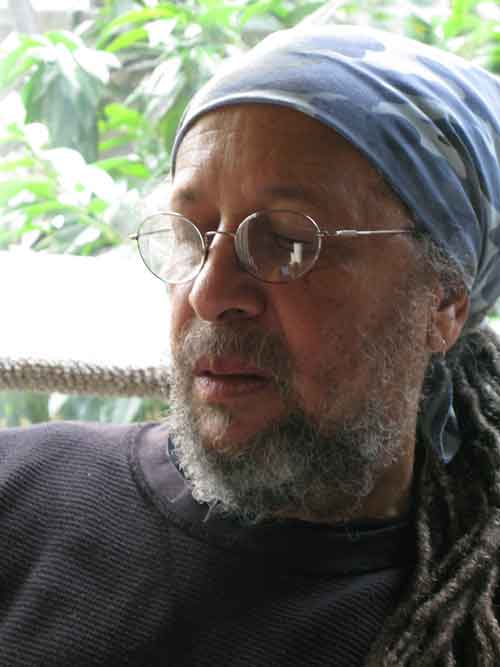 Presentation of the award will be made at the PEN Oakland Literary Awards ceremony at Oakland's Rockridge Branch Library on Saturday, December 7, from 2-5 p.m. Also being honored at the Rockridge Library PEN Oakland event are writers Toni Morrison, Andrew Lam, Luis J. Rodriguez, and Lucille Lang Day, journalist Chris Hedges, poet Tim Seibles, and editors Denise M. Sandoval and Christopher Wagstaff.
Allen-Taylor said of receiving the Reginald Lockett Award that "it's a tremendous and humbling honor any time you are recognized by fellow members of your craft," and added that "but being listed anytime, anywhere on a program alongside Toni Morrison's name is pretty much beyond words to describe."
The Reginald Lockett Award is named for the Oakland poet and educator who passed away in 2008. Lockett and Oakland-based novelist and essayist Ishmael Reed co-founded PEN Oakland in 1989 as an affiliate of the international PEN organizations of novelists, essayists, and poets. Dubbed the "Blue-Collar PEN" by The New York Times, PEN Oakland's self-proclaimed "unique purpose is to promote works of excellence by writers of all cultural and racial backgrounds and to educate both the public and the media as to the nature of multi-cultural work."
Oakland-based novelist and essayist Ishmael Reed, who founded PEN Oakland in 1989, memorialized Allen-Taylor as a "brilliant columnist" in Reed's 2003 non-fiction book on Oakland, "Blues City."
Allen-Taylor began his career in journalism writing and editing for African-American Freedom Movement newsletters and newspapers in the Bay Area in the 1960's, continuing that work when he moved to South Carolina in the early 1970's. Since returning to the Bay Area in the late 1980's, he has written for such Bay Area newspapers as Metro of San Jose, The East Bay Express, The Oakland Post, Oakland Local, and the now-defunct Urban View, all of Oakland, The Berkeley Daily Planet, Bay View of San Francisco, and such national magazines as Color Lines and Race, Poverty & The Environment. His journalistic writings have already been the subject of numerous awards from such organizations as the California Newspaper Publishers Association, the Peninsula Press Club, the Association of Alternative Newsweeklies, and the California Teachers Association.
In 1998, Allen-Taylor wrote a series of investigative articles for Metro newspaper in San Jose that helped lead to the first disbanding of a Civil Grand Jury in the history of California. In 2010, Allen-Taylor founded the Anybody But Perata website that contributed to the defeat of former State Senator Don Perata in that year's race for mayor of Oakland.
Allen-Taylor's first novel, Sugaree Rising, was released late last year by Freedom Publishers of San Francisco. The novel was inspired by the decline of South Carolina's Gullah/Geechee culture as well as the forced relocation of close to a thousand South Carolina African-American families during the 1930's Great Depression by a government rural electrification flooding project.
---

2013 PEN Oakland winners announced
By Lou Fancher Correspondent
POSTED: 12/24/2013 06:45:03 PM PST
UPDATED: 12/24/2013 06:45:04 PM PST
OAKLAND -- Twenty-three years of award-winning, "blue-collar" literature hasn't quelled the fire in PEN Oakland founding father Ishmael Reed's belly.
Introducing the 2013 PEN Oakland Josephine Miles Literary Award winners at the Rockridge branch of the Oakland Public Library on Dec. 7, the writer and activist said, "We're trying to keep the blue-collar spirit of Oakland alive. We're not having a Los Angeles PEN reception at the Hilton."
The Oakland branch's Southern California affiliate, PEN Center USA West in Los Angeles, may have been a model when Reed first proposed the local chapter to his colleagues in 1989. But before long, a determination to be "the first multicultural PEN chapter" distinguished the nonprofit as an organization powered with independent flair.
Naming the awards after poet Josephine Miles, a UC Berkeley professor and the first woman to be tenured in its English department, further established the awards as a trailblazer. Calling attention to underserved, excellent literature and, with the addition of the Literary Censorship Award in 1997, honoring writers whose work challenged restraining forces within the publishing industry, Reed and his cohorts solidified their singular profile within the national PEN Center USA.
Although he was not in attendance, the 2013 recipient of the Censorship Award, journalist Chris Hedges, was a fitting selection. Pulitzer Prize winner, author of nine books and a former New York Times national correspondent who now writes for Truthdig, Hedges resigned from PEN earlier this year. Overwhelmed and outraged by the appointment of former State Department official Suzanne Nossel to a leadership position with PEN, Hedges said in an interview with The Real News Network Senior Editor Paul Jay that he could not be a party to someone who "has amply demonstrated utter disdain for all the core values that a group like PEN says it defends." Recognizing Hedges for "choosing truth and integrity over careerist self-interest," presenter Claire Ortalda accepted the Oakland award on his behalf.
The Reginald Lockett Memorial Lifetime Achievement Award was awarded to Jesse Douglas Taylor, for his extensive writing about Bay Area politicians. Reed said the Berkeley Daily Planet writer works in "the tradition of Zora Neal Hurston; in the language of the people. He writes about the keepers of tradition." Taylor's first novel, "Sugaree Rising," tells the story of a South Carolina community who resisted a massive relocation effort forced upon them by the Tennessee Valley Authority's desire to build a dam and rural electrification project. In the swampy coastal backwoods of the state's Lowcountry, more than 900 families are thrown into chaos and sacrifice their homes in the name of "progress."
"This is a time to talk about the successes, but since I started with that, I'm not going to do that," Taylor said, accepting the award. "I wanted to talk about my biggest failure as a writer."
As a writer for the Charleston Chronicle in the 1970s, Taylor was invited by a young man hoping to shine in local politics to ride along as he visited landowners facing displacement similar to the disruption in the novel Taylor would eventually write. But Taylor put the man off, stalled -- and hoped he would forget about it.
"The guy never had a chance to forget," Taylor said. "A gentleman went into his office and put a bullet in his head. The murder remains a mystery to this day."
"Sugaree Rising" is a means of redemption and a story about a subject Taylor says is "the premiere struggle of people in the United States: to build community and to keep the moneyed interest from putting us off that land."
Andrew Lam, accepting the fiction award for his "Birds of Paradise Lost: Thirteen Stories of the Vietnamese Diaspora," has been happily displaced in America.
"We started out three families living in two bedrooms. My whole (early) life in America is on Mission Street of San Francisco. For 37 years, my life has been crawling slowly downtown and that struggle of a new immigrant, with identity and making it in America," he said.
Author Luis J. Rodriguez and editor Denise M. Sandoval, in their anthology, "Rushing Waters, Rising Dreams: How the Arts Are Transforming a Community," extend the immigrant story beyond its prototypical boundaries. The book chronicles the opening of a bookstore and cultural center amid street gangs and federal housing projects in the northeast San Fernando Valley that has caused the Mexican and Central American natives to revive their imaginations and restore social justice through artistic expression.
"When we talk about a healthy community, art is a part of that equation," Sandoval said.
Other winners included Toni Morrison's "Home" (fiction); Lucille Lang Day's "Married at Fourteen" (memoir); Tim Seibles' "Fast Animal" (poetry); and Christopher Wagstaff's "A Poet's Mind: Collected Interviews with Robert Duncan, 1960-1985 (interviews). PEN Oakland's second anthology, "Fighting Words," will be published in cooperation with Berkeley-based Heyday in fall 2014.
---