Writing Friends,
Is there a magic formula to becoming a good novelist, some set of guidelines and techniques and special tricks bound up in a book or a computer program somewhere that can help you turn out the great novel you always wanted to write?
If there is, I haven't found it in a lifetime of writing and studying how other folks write. So if that's what you're looking for, I'm sorry, but I'm not your guy.
As an editorial consultant/evaluator for novelists, I supply something a little bit different.
I'll look at the first three chapters of your novel as well as a synopsis of the rest, if you have one, point out where I think you may have gone wrong, and give you suggestions on how you can fix the problems and how you can put your novel in the direction you want to go. I won't tell you how I'd write it if I was the one writing your novel, as too many editors make the mistake of doing. I'll help you do a better job of writing the novel you want to write.
I'll provide you a detailed evaluation report of your submitted chapters, as well two video or telephone conferences—one before we start the process so you can discuss the concept of your novel and what you are trying to do, and then a followup at the end after you've had the time to read my evaluation report so you can ask any questions you might have and get clarification on my suggestions.
There's no magic formula involved, and it still leaves most of the work in your hands to implement the changes suggested. But it's your novel, and when you get the glory and the good-wishes once it's published, you'll also have the self-satisfaction of knowing it's also the product of your skill and talent. All I try to do is help set you in the right direction.
I don't charge an hourly fee for these services. Instead, I charge a low flat fee along with an equally low flat per-word rate for the chapters you submit.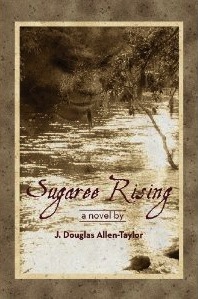 Selecting someone to advise you on your work is one of the most important decisions you can make surrounding your novel, so choose well. If you think you and I might be a good fit, and the services I provide may be what you're looking for, contact me at J. Douglas Allen Taylor <safero@earthink.net> for further information, including rates.
And whether you choose me or not, good luck with your novel. If there's one thing this world can never get enough of, it's good books to read.
---
Author of the acclaimed novel "Sugaree Rising," Mr. Allen-Taylor is an award-winning novelist, journalist, feature writer, and political newspaper columnist who has been working at his craft for more than four decades. Most recently PEN Oakland chose J. Douglas Allen-Taylor for the organization's Reginald Lockett Lifetime Achievement Award For Literary Excellence.

To see a collection of Mr. Allen-Taylor's work from his lifetime career as a writer, please link here.
---