GROWING UP IN NEW ORLEANS
By Shirley Augusta
[Shirley Scott Augusta is the grandaughter of Oscar Braud (or Breaux), who was a first cousin of Leontine Braud Allen. The following was originally published in the "Buffalo Soldier Magazine"]
Looking back over my life, I realized how fortunate I was growing up in New Orleans. There were good times, good living and good food. People there know how to relax and take things in stride. New Orleans has a pace all its own, real mellow and laid back. That's probably why it's called "the Big Easy."
In our block there was a little sanctified church. Every Saturday night there was a fish fry where fish and chicken dinners were sold. They also played a lot of good music. The band consisted of a piano, bass, drum, tambourine and guitar. Everyone in the block would sit out on their front porches and listen to them play. It was a great way to relax on a hot summer night. My brother used to sit in the last church pew and listen to the music. Believe me, that church really rocked on Saturday nights.
I attended school at St. Mary's Academy, a private Catholic girls school which was located in the French Quarter. The Holy Family nuns, a black order, ran the school. The nuns would always tell us not to walk through the French Quarter because there were a lot of weird people there. Of course I didn't listen, being the rebel that I am. I wanted to see what was happening, especially on Bourbon Street, where all the bars were. Hostesses at the bars would tell the men to come in and and have a drink and listen to the music. The combos which played in the bars mostly played traditional jazz, rhythm and blues, and old standards. These small clubs on Bourbon Street had some of the best groups in New Orleans.
I am the oldest of seven children. I was a very introspective child. My head was always stuck in a book, and I have always been fascinated by the written word. My brother and I used to compete for reading certificates at the Dryades Street Library. I probably read about eight books during the summer recess, even though the required number was five. I am still an avid reader.
My parents were Alma Braud Scott and Wallace Paul Scott, Sr. My mother was from Convent, Louisiana and came from a family of thirteen. She was considered a Creole of color, because her ancestry was African, French, Choctaw Indian and Irish. My father was born in Natchez, Mississippi, from a family of seven. His background was African and Scotch Irish descent. My father was often mistaken for white, because of his very fair complexion.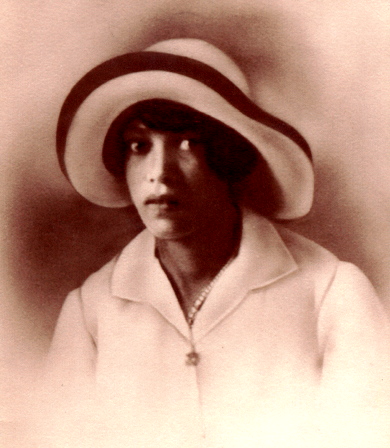 Alma Braud Scott
My grandfather, Oscar Braud, was free born and was of African, French and Indian ancestry. He spoke French and was a cigar maker by trade. Mama said he was something else, a very feisty man who always spoke his mind. He died at the age of 101 and stayed active up until his death.
My grandmother, Ida Doley, was also free born. She was of African, Irish and Choctaw Indian ancestry. Mama said she was a very quiet, refined lady who always had a smile on her face.
The Creoles of color are a very fascinating group of people. They're the descendants of African slaves, French, Spanish, Indians, Irish and German settlers.
The Creoles of color built the beautiful wrought ironwork in the French Quarter. They excelled in the building trades. Even today they're skilled carpenters, bricklayers, tile setters, shoemakers, hairdressers, seamstresses and also excellent cooks. Good food is highly appreciated in New Orleans.
Many of the fair complexioned Creoles of color passed for white. Some did it for better jobs and to live in better neighborhoods. Others simply didn't want to be accepted as black and crossed over to the white side. Even though my father was very fair complexioned he never thought of passing for white, because he was very proud and secure about who he was. I feel it's a very sad and tragic compromise. You're cut off from your family and friends and really don't have an identity.
Even though New Orleans was a very segregated city when I was growing up, I still had a lot of fun. We went to basketball games, tournaments, the movies and house parties. At the house parties, there was always good food, good music, and lots of dancing. Mama was always in the next room keeping an eye on things.
We had vegetable vendors who would peddle their produce in horse drawn wagons. They were very colorful about how they would sell their fruits and vegetables. I still recall them singing "Blackberries, get your sweet blackberries." "Watermelon, watermelon--red to the rind." They would cut a triangle shaped plug from the melon for you to taste and see if it was sweet. Everything was so nice and fresh, so different from some of the produce you see now.
Mardis Gras was always a very special day in New Orleans. You could wear masks and any costume you liked. When we were children, Mama would sew pastel colored flannelette bunny constumes for us to wear. Then after Mardis Gras, they were our pajamas. My mother was a very thrifty and resourceful person. She would prepare a large bag of sandwhiches, sodas and snacks for us to eat while watching the parade.
There were many carnival floats representing different themes. The riders on the floats would throw beads, souvenir coins and trinkets to the people along the parade route. Rex the King of Carnival in all his royal splendor would be the last float in the parade. There were also school marching bands and other bands. Among the best was "the Eureka Brass Band." They really jumped. Coming behind them were the Second line. They were the people who danced behind the bands. Second liners carried umbrellas, pumping them up and down and dancing in time to the music. They were a lively bunch and a sight to behold. After the parade, we went home with a hearty appetite for red beans and rice, fried chicken, and sometimes a pot of gumbo. There's so much I could tell you about New Orleans, I could go on forever. It's such a fascinating and interesting place to live. Even though I lived in San Jose for nineteen years, I still have very fond memories of growing up in New Orleans.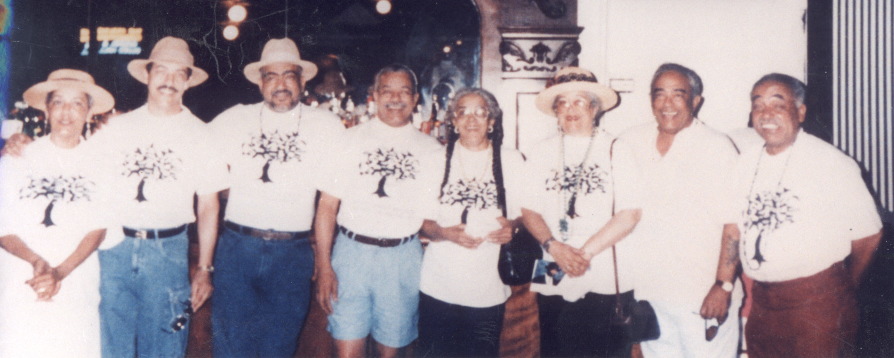 The seven children of Alma Braud Scott and Wallace Paul Scott, Sr., plus one, at a family reunion, New Orleans, 1995 (l-r Audrey, Eldridge, Kerry, Kwanza, Ramona, Shirley, Wallace, and cousin George Etienne, who considers himself a brother)