THE LASHBROOK-JOHNSON PAGES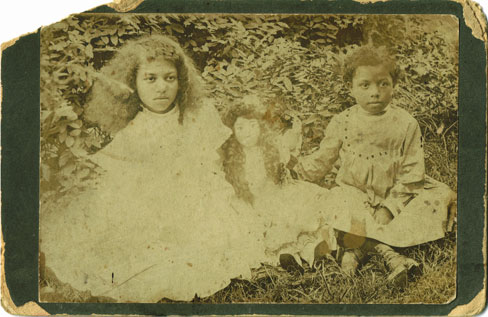 Mable Johnson Lashbrook
(Pictured at left. The girl at right is unidentified.)
Mable Johnson Lashbrook was born in Houston, Texas in the 1880's. She later married Ellis Allen, Sr., and was the mother of Marguerite, Ellis Jr., Ernest Sr., Elaine, and Audrey.
Mable's father, Mr. Lashbrook, was a white man. Her mother, Ms. Johnson, was an African-American woman. Ms. Johnson was described as a very dark-skinned woman, with full, African features. Mr. Lashbrook and Ms. Johnson never married.

Mr. Lashbrook
Mable sometimes referred to her white ancestry in later years, describing herself to her grandchildren as "free, white, and 21" (a common saying among white folks of her day when asserting that they were at liberty to do one thing or another). Not too long before her death, Mable told at least one of her children that her father had been a saloon owner for whom her mother worked.