---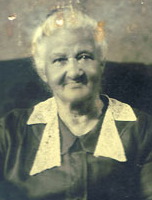 THE ALLEN-BREAUX PAGES
ALLENDOM
A Brief, Unfinished History Of The Allen-Breaux Family Written For The 1990 Allen Family Reunion
© 1990
Betty Charbonnet Reid Soskin
Ruth Romine Warnie Strange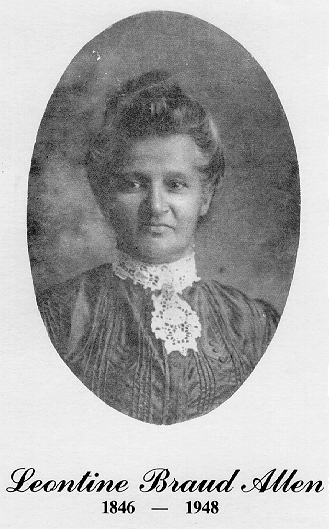 Cover of the 1990 Allen Family Reunion Booklet

---
Introduction
By Betty Reid Soskin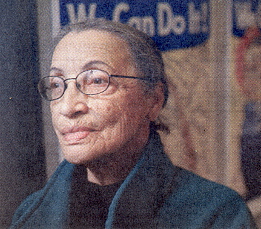 When Cousin Ruth called to ask if I would be willing to help with this family project, I leapt at the chance. Had often dreamed of just such an undertaking. Here was the chance to join in a work in progress since she had gathered much of the vital data and had located the important sources of material.

You will need to keep in mind while reading, that what we have done is to simply take the hard data and to draw inferences that seemed most likely. This is the best that one can do when material is as old as most of this is, and when we have only the memories of senior relatives (now nearly a century-old) to use as confirmation. And, like the proverbial blind men and the elephant, each has a subjective memory of events at best.

However, it is the debate that this paper will initiate that holds the magic. "Oh no, it didn't happen quite that way..." may be the onset of new discoveries that will enrich the legends. Therefore we do invite everyone to add on and alter as each begins to draw their own inferences from the data we've appended. It is in this way that we can together begin to lay the foundations of a true historical document that will hold together for future members of the Allen Clan.

I would love to get everyone to submit whatever memories have been collected over the years. It will be like the creation of a verbal patchwork quilt with each of us adding our particular shapes and colors to the whole.

These, then, are the shapes and colors of our pieces written in the hope that you will join with us in the "quilting."


---
Preface
If we accept the premise that understanding and critical analyses of world and national history are essential to the building of a constructive future for all of humankind, it would naturally follow that ethnic and family history must be given equal scrutiny. Together, we can rebuild the cultural underpinnings of ourselves as African/Americans while engaging in one of the most fascinating searches imaginable.
The Allen family history proves that many generations of very strong people dared to cross over a host of unimportant lines in the never-ending quest for love, adventure and achievement. What a great heritage! What a beautiful polyglot these Allens be! Our very existence proves the irrelevancy of race as the determining factor of anything -- an illusion at best.

Unfortunately, we live in a time when -- for political reasons -- we must choose carefully the edge we use in facing a world filled with racial hatred. Our times demands an unwavering allegiance to our African roots.
To the great African stock which created our earliest traceable ancestor-in-common, Celestine, has been added (over many generations) European ancestry (i.e., French, English, Spanish, Portuguese, German); many Native American tribal unions; and, in more recent times, various Asian bloodlines. Added to these would be a number of Jewish/Black unions. Given the many ethnic and cultural mixtures in many Jews, and add to that most African/American racial blends, and the entire question of race becomes moot.

To the extent that our family history is indistinguishable from that of most other African/American families, we together share and enrich the cultural base of the entire country.
Hopefully, each of us will consider this as only the beginning of a process of rediscovery and will use the attached documents to deepen the search for "Allendom".


---
How It All Began
Ruth Warnie Romine Strange (daughter of Joseph Warnie and Marie Isabelle Allen; daughter of George Allen, Sr.*, and Marie Leontine Braud who was the daughter of Celestine (slave of Edouard Braud, Sr.) and Rosalie Cloátre; daughter of one Draizín Cloátre, all of St. James Parish, Louisiana, called to say that she had collected a host of names, relationships, family gossip and idle rumor over several years in an effort to piece together the Saga of Allendom. She had recently added to this material copies of the legal documents gleaned from the genealogical records of the Archives of the Mormon Stake Library in Oakland, California. (Ed.; I can now be entered in the Guinness Book of Records for having written this day the longest, grammatically correct couple of sentences in the English language!)

Ruth now added to this melange the relevant church papers from the Archives of the Diocese of Baton Rouge, bringing on the very real threat of terminal confusion!


Enter...


Two years after the fact I, Betty Charbonnet Reid Soskin (daughter of Dorson Louis Charbonnet and Lottie Estelle Allen; daughter of Minétte LaRose and George Allen (Jr. or "III"?) who was the son of Marie Leontine "Mamma" Braud, etc., joined the search for clarification.

Calling on skills learned from my late university/professor/research psychologist/scientist husband, Bill Soskin, I set forth a hypothesis with the full intention of making every effort to disprove it -- and having failed to do so -- to offer here what we truly believe is the story of the Allen family.

As in any good scientific experiment, it is the duty of all who follow to work to replace what temporary truths we've uncovered and to offer more exact findings of their own. This, then (in the tradition of good science) is the job of younger Allens and Allens yet unborn.

For now, the combined curiosity and zeal of Ruth and I have produced some interesting speculations as carefully constructed from the aforementioned documents. We recently added to that work new information gathered in a visit to the National Archives at the Golden Gate National Cemetery in San Francisco. It was there that we were able to pour over the microfilmed Slave Census documents for the years of 1830 and beyond. Fascinating! We've also sent for Marie Leontine's military pension records from Washington, D.C., and will have them on hand for some future Allen historian to work with.
---
What Was St. James Parish Like In Those Times?
Though it was possible to view only a few of the available microfilms of the period, given the time we had to spend, our trip to the Archives only served to pique my curiosity. However we did get a sense of St. James from the slave census data.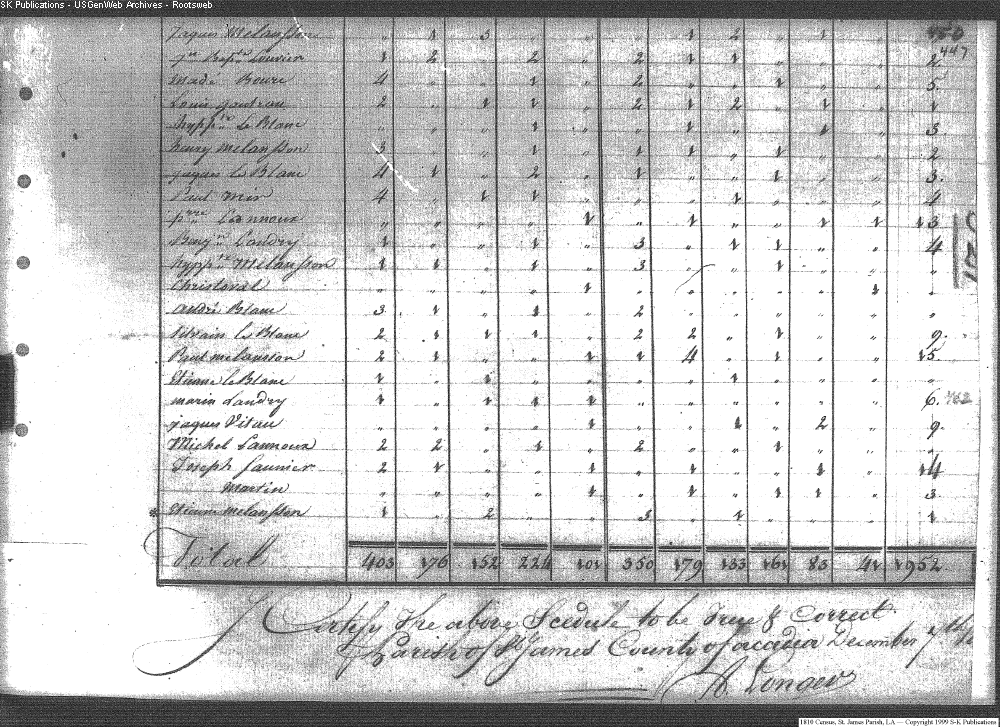 Page from the 1810 United States Census of St. James Parish

From the size of the 1830 microfilm it is clear that the area was only sparsely populated at the time. There seemed to be no more than a few large plantations.

In the census of 1830 there is a listing entitled "Head of Households" which list one Augustine Braud. His family numbers 10 though only the names of 3 family members are listed individually; Alexis, a two-year-old; Rosamond, 8 years-old and Marcellin, aged 9. This may mean that these were the only purely French members of his family. Had we gone back to 1820, we may have found other entries for the surname. At that time, non-white family members would have been counted as chattel, only.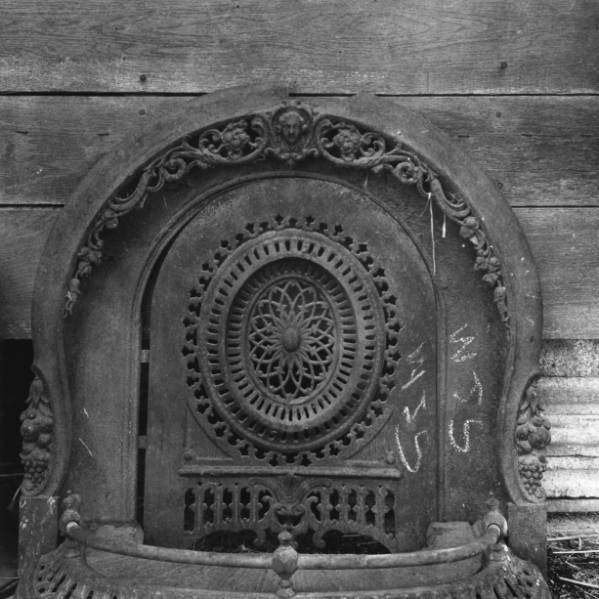 Fireplace from Uncle Sam Plantation, Convent, Louisiana (St. James Parish)

Twenty Years Later...

In the census of 1850 we find quite a different picture of the settlement. By that time the population figures were:

Whites 1,677 males

1,588 females
3,265 free persons

Slaves 3,375 males

4,377 females
7,751 slaves

It is interesting to note that the white males outnumbered the females. Among the slaves the opposite is true (by design?).

It is probably safe to assume that the mulattos were children of the slave owner fathers and sons. But, it is interesting to note that in the same count there is a confusing category called "Coloreds" given as

Males 26
Females 36

though a separate category seems strangely redundant. One explanation may be that these individuals were conceived through unions between Africans and Native Americans. It came as a surprise to me that there were Indian slaves in the Southern States, certainly in the Louisiana census (though unnamed by race, and only mentioned in narrative). Something for some future Allen sleuth to contemplate, right?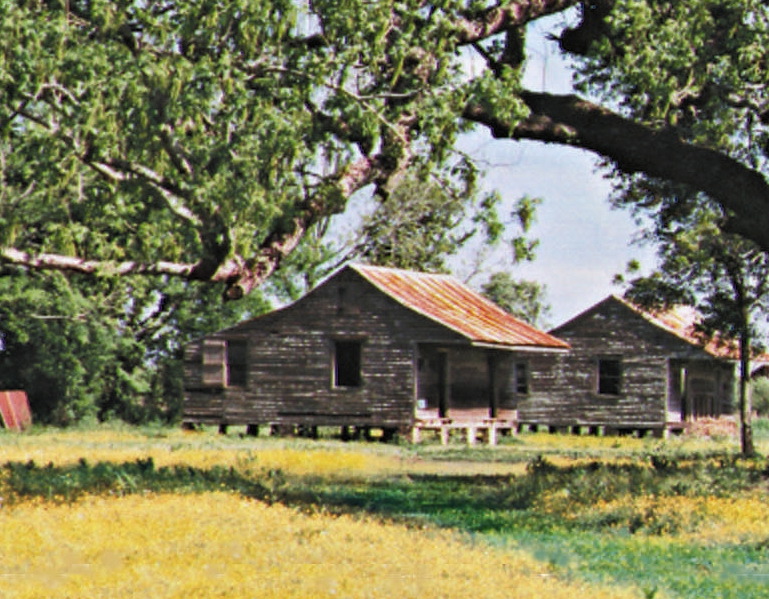 Slave cabins from the Laurel Plantation, Vacherie, Louisiana (St. James Parish)

---
Breaux Family Early History...
In closer examination of the relevant pages from the ledger Extract From 1850 Census, (Microfilm Reel #239, 7/30/1850) one finds clear evidence that the heads of households are five brothers Edward (Sr.), Farmer, aged 57; Marcel, Workman, aged 55; Joachim, aged 42; Emile, aged 31; a cousin (perhaps) Emile who was 29; and an unmarried brother named Oscar who was 19.

It is clear from the headings giving age, sex, color, occupation, etc., that
Marcel's family was "white" as were those of the two Emiles. Since the heavy lines denote "households", it is fairly certain that we're talking about five such households with young Oscar "out there" on his own.

Our family, that of Edouard and Rosalie (apparently named after her mother) are obviously influenced by that of younger brother, Joachim. If you will note, in the "color" column, his wife, Marie, is a 35-year-old Mulatto woman (M) and that their large family is all listed with an "M" which signifies racial mixture. They were obviously married and not simply co-habiting since the census shows that they carry the same surname.

It is also quite clear that there was apparently no stigma attached to their skin color since family names are quite evident in the children of the next generation. It is fair guess that this was a close family with Joachim and Marie a major influence in that they set the example that was later followed by our own Edouard who later married the slave, Celestine. The continued closeness of the Braud family is evidenced by the fact that many of our great aunts and uncles carry all of part of the names of Joachim and Marie's children.

Among those names are, Camille, Marie, Marie Louise, Albert and Louise. The names Marie and Louise are carried as first or middle names for many of Mum's daughters. Mamma must have known and loved her aunt, Marie, having given three daughters the name. Celestine, our slave ancestor, named her only son, Theophile, for the son of Marie and Joachim.

Oscar and Valcour are brothers, sons of Oscar Braud and Ophelia Arseneaux. This, according to their marriage records (see appendix) when they were married one year apart in February of 1878 and 1879. If you will examine the archival records of the Diocese (appendix) you will find that Valcour is listed as godfather ("sp") of our Ruth's mother, Marie Isabelle Allen.


---
Eduoard and Rosalie Braud, Sr.
An interesting sidelight was the notation on Draizín Cloátre, whom we know to be the father of Edouard's wife, Rosalie. The census of 1850 lists him as owning a single slave, a nine-year-old mulatto boy. Makes one wonder if this weren't his own son which would mean that Rosalie might well have been raised with a half-brother of color.

Eduoard, (Edward, etc.) is the eldest of the family and apparently the head of the plantation upon which they all lived. At least, they seemed to have shared the land with Eduoard being listed as "Farmer" and his oldest son, Silvanie, as "Overseer."
Edouard, Jr.
Our ancestor, Edouard, Jr. was the second-born son of Eduoard and was 24 at the time of the 1850 census. This means that he was already the lover of our slave ancestor, Celestine and the father of our Marie Leontine (Mamma) who was born in 1846. She was four at the time of this census but was not accounted for but may well have been hidden, or was counted in with her mother, Celestine, with the slave population. One can only speculate.

It appears from the census profile on St. James Parish that there were many large plantations which owned several hundred slaves. The BRAUD (BRAU, BREAUX) appears not to have been one of these, but rather was one of relatively modest proportions; middle class by today's standards. They owned a slave staff of 57 persons. This would have been the household of the elder Breaux and his extended family.

I have always believed that the slave master who fathered our ancestor, Celestine, was that typical older man who exploited his female black slaves. The very word, "slave master" conjures up images of rape and sexual subjugation.

To the contrary, the younger Eduoard and his Celestine were lovers in a long-standing relationship which covered several decades. I've been told by my Aunt Vivian (daughter of George Allen, Jr.) that Celestine and her daughter, our Mamma lived in the big house and cooked and delivered meals to the slaves who worked the fields. Vivian remembers such stories from her own childhood in St. James. Celestine and Eduoard lived together on the plantation for over a twenty year period preceding the Civil War.

This is also supported by the fact that Leontine's birth and christening took place in the year 1846, almost twenty years before the signing of the Emancipation Proclamation; hardly signs of a casual relationship.

According to church documents (See Daigre letter), Edouard married Celestine at the point where freedom occurred. The Emancipation Proclamation dates to the year 1865 as does their marriage; a marriage which was performed in order to legitimize their two year-old son, Theophile. (Is this child the brother Mamma spoke of as "Ro-bair"; the Robert who was lynched in his youth?)

Our Mamma seems to have enjoyed a "family" relationship with Edouard which provided both support and protection. There is no evidence that she bore children prior to her marriage to George in 1869-70. Both Mamma and her younger sister, Nonanne, seemed to have enjoyed freedom from sexual exploitation common in the experience of women of their circumstance.

There is ample evidence that Catholicism played an important role in the social behavior of the Breaux family. Records of their marriages and baptisms provide an impressive road to follow through the years of their lives.

Have never given it much thought, but this work is teaching this Allen that the values of institutionalized religion go far beyond individual belief systems. Cultural roots weighed against intellectual integrity carry more power than I would have imagined. Makes me want to go back to reexamine...

Edouard seems to disappear from the Census records before 1870, there is the possibility that he died of natural causes. Have turned up nothing about his military record, but would assume that his role in the War will turn up in a search of the National Archives which are not available on the West Coast and will have to wait for a trip to either Salt Lake City or the Nation's Capitol.
---
CELESTINE

"Parents unknown," she springs upon the world a totally independent being. She may well have been the child of African-born slave parents from whom she was separated through sale or trade at a tender age. It was common practice in that cruel chapter in our country's history to separate slave families in order to produce greater allegiance to and dependence upon the host family and its enterprise.

Aunt Vivian describes Celestine ("Mom") as always walking with a long pole, much in the fashion of the women of Africa (Masai?). My mother, Lottie, speaks of her as being "brown skinned with nice, puffy hair." This suggests that Celestine may well have been the daughter of an African/Indian mixture, one numbered among those described as "Coloreds." Later generations certainly display signs of the physical characteristics of Native Americans.

There is every indication that she was a house servant who lived in close relationship with the Breaux family. The fact that she raised three children in slavery times but apparently not as slaves suggests that those children were raised in a relatively intact family constellation headed by their father, Edouard.
My mother, Lottie, remembers that Celestine's second born daughter, Dora (known as Nonanne), spoke beautiful French and could read may well have been the genesis of Mum's daughter, Marie Alice's, insatiable appetite for learning which led her to become St. James' leading educator and the founder of the first school for blacks in the community. Aunt Alice was the first in a long line of Allen educators -- many who began with the simple requirements of "a high school diploma and two years' Teachers Normal" has evolved to many with advanced degrees and at least one Board of Regents Chairman, Dr. George L. Allen of Texas Southern University; a contemporary and friend of Justice Thurgood Marshall.

But I digress . . .

Celestine and Edouard's firstborn, Leontine, arrived in February of 1846. Dora was born two years later (birth date could not be confirmed). Their third child, already mentioned, followed when Mamma was about 17-years-old. Makes one wonder by what method these children were spaced. Why were there not many children? Could there have been others about whom we know nothing?

Celestine's relationship with and dedication to Eduoard endured over the span of twenty years. Their love seems to have ended only at his death.

Sometime after Edouard dropped out of her life, Celestine (married?) Mr. Orthaire Jean Baptiste for whom she bore Gloria (Tante Glau) Celine (Tante Celine) and a third daughter, Georgeanne, who died as a young woman without having produced a child. Tante Glau (as Mrs. Commanîe) gave birth to four children; one daughter, Viny, and three sons; Marcel, Sherman and Trasimon.
---